We Also Specialize in Exceptional Aboveground Pools
Bring the vacation to your own backyard this summer with an Aboveground Pool! We offer many pool styles with a wide range of sizes and shapes to fit any space and budget. There is no better way to beat the heat than in one of our aboveground pools.
From our steel to our resin pool options, all are made with quality, durable materials that will provide years of fun in the sun. Ask us about creating your private paradise today!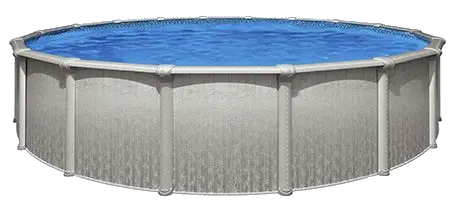 Sahara STR
A structurally simplified design with superior strength and durability that is both efficient and attractive
Features
7-inch protected steel top ledges for extra resistance to weather
Steel uprights treated with Texture-Kote
Two-piece ledge cover and foot cover for precise fit
Interlocking stabilizer support system for easy wall installation
Sahara wall pattern-complements Ivory structure
Heavy corrugated wall with superior coatings
Buttress system for oval pools
Round 52″ Height
12′ 15′ 18′ 21′ 24′ 27′ 30′
Oval 52″ Height
12′ x 17′ 12′ x 24′ 15′ x 26′ 15′ x 30′ 18′ x 33′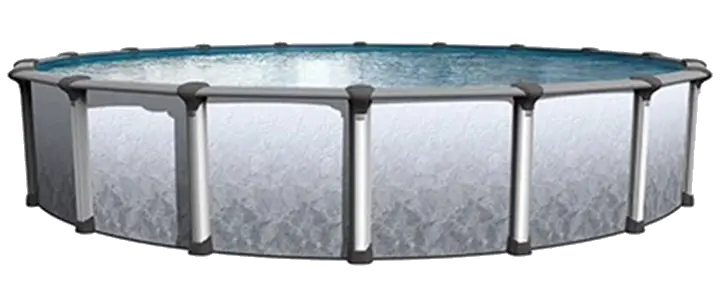 Alexander
Features
52" Wall Height
9" Steel Top Ledge
Steel Gray Uprights
Steel Stabilizer, Top Plate, and Bottom Plate
Gray Stained Glass Exterior Wall Pattern
Two Piece Ledge Cover
Oval System is Non-Buttress Only
3 year warranty
Round 52″ Height
12′ 15′ 18′ 21′ 24′ 27′ 30′
Oval 52″ Height
12′ x 24′ 15′ x 24′ 15′ x 30′ 18′ x 33′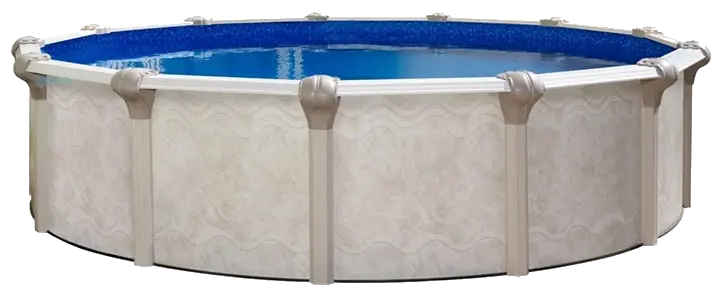 Chesapeake
Features
Silhouette Wall with Pearl Frame
9″ Steep top Ledge
8″ Steel Uprights
Sturdy Steel Frame
Buttress-Free System for Oval shaped pools
Round 54″ Height
12′ 15′ 18′ 21′ 24′ 27′ 30′
Oval 54″ Height
12′ x 18′ 12′ x 24′ 15′ x 24′ 15′ x 30′ 18′ x 33′

Emotion
Features
Deeply-corrugated steel designed for wide mouth skimmer
All Resin 7″ top rail – offers maximum rigidity and weatherproof durability
7″ Steel Upright
Resin Bottom Track
2 piece resin connectors provide precise fit and extra strength
Widemouth skimmer cut-outs
Buttress free oval system
Eliminates the need for angled side supports on oval pool
Saves up to 2.5 feet on each side of pool
Round 52″ Height
12′ 15′ 18′ 21′ 24′ 27′ 30′
Oval 52″ Height
12′ x 23′ 15′ x 30′ 18′ x 33′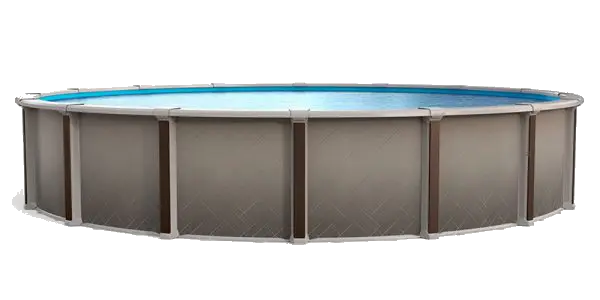 Quantum Breeze
Features
Top ledge 9'': Resin
Upright: Resin
Bottom rail: Resin
Stabilizer: Resin
Bottom plate: Resin
Top plate: Resin
Ledge cover: 1 pc
Structure color: Champagne
Oval system: Braceless – YM
Round 52″ Height
12′ 15′ 18′ 21′ 24′ 27′ 30′
Oval 52″ Height
12′ x 24′ 15′ x 24′ 15′ x 30′ 18′ x 33′

Harmony
Features
54" Pool Height
9" True Radius Resin Ledges
7" Resin Uprights
Oval System Non-Buttress Only
Galaxy Wall
Resin Plates & Rails
One Piece Ledge Covers & Foot Covers
Round 52″ Height
18′ 21′ 24′ 27′ 30′
Oval 52″ Height
15′ x 30′ 18′ x 33′